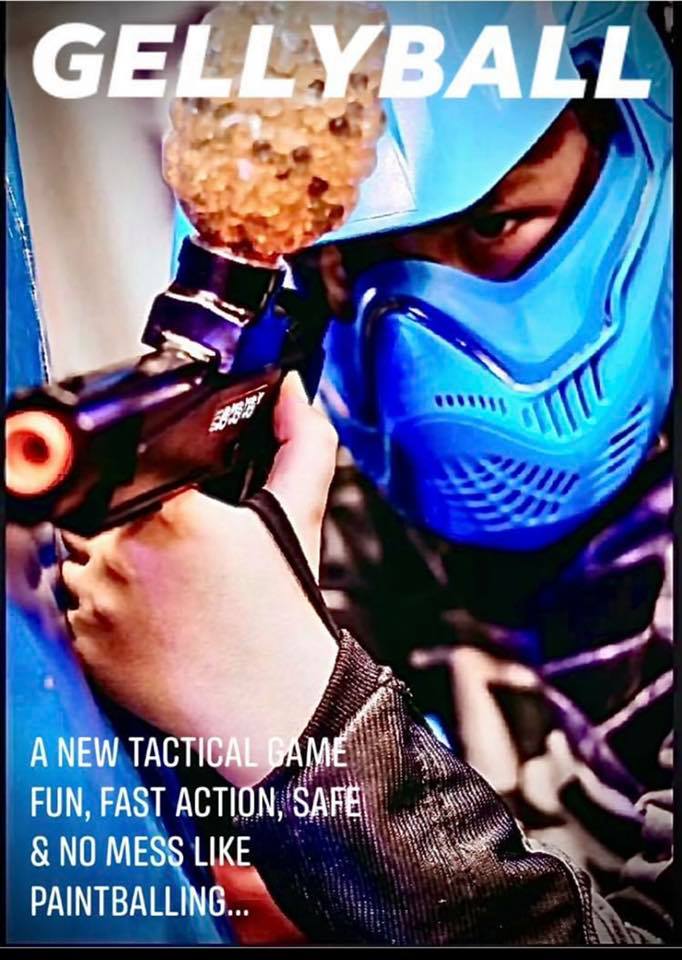 Small Impact
Ages 5 and Up
More Fun than Nerf
No Staining or Mess

The Perfect Option For Younger Players As There Is Virtually No Sting!
GELLYBALL BLASTERS SHOOT A SOFT GEL BALL, MUCH LIKE AN ORBEEZ THAT YOUR KIDS PROBABLY ALREADY PLAY WITH! SHOT FROM EASY-TO-USE BLASTERS, THE SOFT GELLYBALLS BOUNCE OFF KIDS OR SIMPLY DISINTEGRATE, LEAVING NO STAIN, MESS OR STING. UNLIKE NERF GUNS, WHERE THE PLAYERS HAVE TO CONSTANTLY RELOAD WITH AMMO OFF THE FLOOR, A JELLYBALL BLASTER HOLDS 750 SHOTS WITHOUT RELOADING! JUST PULL THE TRIGGER AND THEY SHOOT! GELLYBALL GUNS SHOOT 12 BALLS A SECOND AND ARE FULLY AUTOMATIC! EASY EVEN FOR 5 YEAR OLD KIDS TO USE! IF YOU'VE HAD A NERF PARTY, AND ARE LOOKING FOR THE NEXT STEP UP, GELLYBALL IS THE ACTIVITY FOR YOU!

GellyBall AK (Put Picture of AK File Name: Gellyball Gun 4)
One of the most popular designs is the replica of an AK. This sought-after gun is now available as a GellyBall AK rifle.
Large magazine
Adjustable stock
Orange safety tip
Capacity: 300 GellyBalls
Rate of fire: 10-12 GellyBalls per second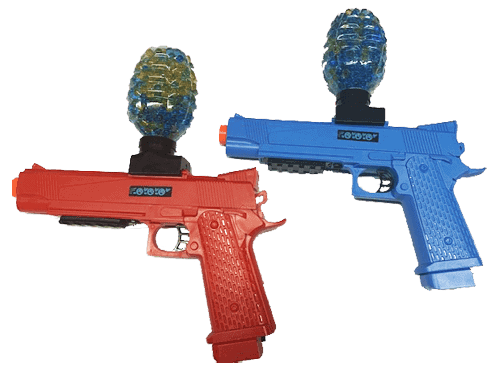 GellyBall 1911 Pistol (Put Picture of AK File Name: GellyBall-1911-pistol)
Lightweight and easy to carry, you can use this pistol as your primary weapon, or holster it. The bottom tactical rail is perfect for tactical lights or lasers – or mount your GoPro camera!
Colors: Blue, Red
Ages 7+
Weight: 1 lb.
Length: 11" long
Height: 7" tall
Width: 1.5" wide
Capacity: 750 GellyBalls
Battery life: 3000 shots
Rate of fire: 15 GellyBalls per second
How Long do 750 GellyBalls Last?
Hmmmm… How long does a glass of wine last?
It's really all up to the individual. GellyBall Blasters are electronic guns, so if you squeeze the trigger and hold it, they will shoot about 10 balls a second! But we tell the players to shoot in "Bursts," just a quick pulls on the trigger. That being said, we have found that the average group goes through 1,500 gellyballs per player in about a one and half hours,
If we run out of ammo is our party over?
Not if you don't want it to be! You can always buy more GellyBalls. A "Hand Grenade" holds 750 GellyBalls. You can buy another 750 for just $5.